FREQUENTLY ASKED QUESTIONS
COVID-19 Coronavirus
Do you offer SBA Loans from the 2020 CARES Act, such as the Paycheck Protection Program (PPP) and Economic Injury Disaster Loans (EIDL)?
---
Yes; however, Evergreen Capital is not a direct SBA lender. We offer commercial loan brokerage and advisory services for borrowers seeking SBA Loans. We help prospective borrowers prepare loan packages, compile documents, and submit loan applications to approved SBA lenders, and help manage the process through funding and closing. For borrowers seeking immediate relief from the 2020 CARES Act such as the PPP or EIDL, we recommend contacting your existing bank or other financial institutioin where you have your depository banking relationship, as many lenders are prioritizing serving existing customers before opening loans to outside borrowers. If you are unable to secure funding from your primary lending institution, contact us at Evergreen Capital and we will be happy to assist you.
---
What is the 2020 CARES Act Paycheck Protection Program (PPP)?
---
[Update: Some of this information may be subject to change as lenders and regulators work out the details and logistic.For detailed info from SBA, visit their website here.] - The CARES Act authorizes up to $349 billion in forgivable loans specifically for small businesses to pay their employees during the pandemic crisis. - Provides small businesses with funds to pay up to 8 weeks of payroll costs, including benefits, as well as mortgage interest, rent, and utilities. - Small businesses and sole proprietorships can apply Starting April 3rd, 2020, and independent contractors and self-employed individuals can apply starting on April 10th, 2020.
- Apply as quickly as you can because there is a funding cap. - All Small Businesses with fewer than 500 employees are eligible including nonprofits, veterans organizations, tribal concerns, self-employed individuals, sole proprietorships, and independent contractors. - All of the loan terms will be the same for everyone. - These loans are fully forgivable. The loans will be forgiven as long as the loan proceeds are used to cover payroll costs, and most mortgage interest, rent, and utility costs over the 8 week period after the loan is made; however, at least 75% of the forgiven amount must have been used for payroll. In other words, not more than 25% of the forgiven amount may be for non-payroll costs. - Business owners must keep employees on the payroll, or if they've already been laid off, they must rehire quickly. Forgiveness of these loans is based on the employer keeping employees on the payroll or quickly rehiring employees and maintaining current salary levels. You have until June 30, 2020 to restore your full-time employment and salary levels for any changes made between February 15, 2020 and April 26, 2020. - No payments are required for 6 months - No collateral or personal guarantees are required. - Neither the government nor lenders will charge small businesses any fees, although some people may want to pay a professional for guidance and help with obtaining these loans. - You can apply through any existing SBA lender. Talk to your local lender as to whether it is participating, or give us a call at Evergreen Capital. All lenders will have the same terms. - You should use the proceeds from these loans on your payroll costs, (including benefits) mortgage interest, rent, and utilities, as long as these things were in place before February 15, 2020. Payroll costs include salary, wages, commissions, or tips, or net earnings from self-employment up to $100,000. Employee benefits include vacation, parental, family, medical, or sick leave; health care benefits including insurance premiums; payment of any retirement benefits, and any state and local payroll taxes. - Loans can be for up to two months of your average monthly payroll from the past year plus an additional 25% of that amount, and that amount is subject to a $10 million cap, with payroll costs capped at $100,000 for each employee. - You will owe money when your loan is due if you use the loan amount for anything other than payroll costs, mortgage interest, rent, and utilities payments over the 8 weeks after getting the loan. You will also owe money if you do not maintain your staff and payroll, or if you decrease salaries and wages by more than 25% for any employee making less than $100,000 per year. - The interest rate on all of these loans is fixed at 1% per year, and although interest begins accruing right away, all payments are deferred for 6 months, with the loan due in 2 years. - There are also no prepayment penalties, so you can pay off the loan early, if you like. - You will need to provide to the lender with documentation that verifies the number of full-time employees on payroll and the dollar amounts of payroll costs, mortgage or rent payments, and covered utilities for the eight weeks after getting this loan. - The lender will calculate the eligible loan amount using the tax documents you submit, and you'll have to affirm that the tax documents are identical to those you submitted to the IRS. If you have more questions or need more info, go to www.sba.gov or www.coronavirus.gov, or give us a call at Evergreen Capital. Good luck, and stay safe.
---
What financing moves should I be making during the 2020 COVID-19 crisis?
---
At this point, it is still unclear how long or severe the current global recession will be from the pandemic caused by the COVID-19 Coronavirus. Each investor has a unique set of circumstances and needs, and every portfolio is unique. The most important move that an owner or investor can make is to take a close look at their portfolio to determine if they are able to meet their obligations, and if any changes will impact their short-term and long-term goals. At Evergreen Capital, we have a highly skilled team of advisors that are available to answer your questions and analyze your portfolio to help you with any strategic changes that may be necessary. Please don't hesitate to give us a call today.
---
---
Our Services
Why Use a Commercial Mortgage Broker?
---
Evergreen Capital is a Commercial Mortgage Broker, not a direct lender. Commercial real estate investors and owners almost always eventually need financing for their assets. When that time comes, whether you are refinancing or purchasing, you have a choice to make. Should you shop around for a loan yourself by going directly to the banks, or should you hire a Commercial Mortgage Broker like Evergreen Capital to help? We work for the borrower, not for the bank, and we specialize in helping the borrower do four things:
Shop the lending market for the most competitive loan programs
Help the borrower analyze and compare the advantages and disadvantages of different loan quotes from various competing lenders
Help the borrower compile and prepare a complete loan proposal package for the underwriters
Facilitate and manage the loan process on behalf of the borrower all the way up until closing and funding
A good analogy would be that a commercial mortgage broker is to the borrower and the lending market what an attorney is to the client and the legal system. You could go into a lawsuit without an attorney, but the time and energy spent doing something outside of your specialty would be arduous, and your chances of getting the best possible outcome would be greatly diminished. A commercial mortgage broker serves a similar function - to represent the borrower's needs to the lending market, and serve as their advocate throughout the financing process, helping to ensure the best possible outcome. NO ADDITIONAL COST Important to know is that there is usually little or no additional cost to use a commercial mortgage broker. The borrower typically does not pay extra to use a broker. The reason for this is because banks typically charge borrowers points up-front on the loan to cover their normal sales & marketing costs and expenses related to originating the loan. Since commercial mortgage brokers handle the sales and origination functions for the lender and typically bring them more loan volume, most lenders will waive or reduce their origination fees so that the broker can collect that fee instead. So the borrower gets the advantage of having someone representing their interests, instead of the banks, and it's typically at no additional cost to the borrower. EXPERIENCE The first thing to consider is experience. Most real estate owners finance a very limited number of properties in the course of a year. A good commercial mortgage broker will handle dozens of transactions in the same time period. The broker understands the current lending environment, market conditions, and underwriting guidelines, all of which are constantly changing as the market goes through its typical cycles. MARKET KNOWLEDGE The next thing to consider is market knowledge of the current lending environment. Most real estate investors have just a handful of relationships with local lenders in their market. A good commercial mortgage broker typically deals with a wide array of local and national lenders every day, including mortgage banks, commercial banks, HUD lenders, investment banks, insurance companies, pension funds, credit unions, hedge funds, agency lenders, government agencies, and private lenders. Every commercial property is unique and each borrower has their own unique set of wants and needs. A good commercial mortgage broker will have a far broader understanding of which lender and loan would be the best fit for any given transaction. CERTAINTY OF EXECUTION The next thing to consider is certainty of execution, because a commercial mortgage broker has familiarity with the process each lender prefers, and best way to prepare a loan submission package for each particular lender. The typical lender sees far more requests than they can possibly review and approve. A good commercial mortgage broker knows how to prepare a loan request package that will be given the best consideration and quick response by lenders, and they typically know what information is key to obtaining a loan approval from a lender. ANALYSIS AND CONSULTING Utilized someone with expertise on all of the various ways that commercial loans can be structured. Too many borrowers focus only on the interest rate. A commercial mortgage broker will help understand your goals and negotiate deal points such as the maximum loan amount, loan term, amortization period, whether the loan is recourse or non-recourse, prepayment penalties, closing conditions, post-closing and/or ongoing annual requirements such as inspections or financial reporting, etc. We still encourage borrowers to talk to their local lender first, and see what types of loan terms they can get from the bank with which they already have a relationship, as that will have a baseline from which to compare other loan quotes. Most likely, though, a commercial mortgage broker will be able to offer different choices and more options, such as longer loan terms and amortization schedules, which can make a huge difference in the borrower's cash flow. When you use a commercial mortgage broker, you typically get a wider variety of loan options than you would get if you were trying to procure a loan on your own.
---
What types of financing does Evergreen Capital offer?
---
At Evergreen Capital, we offer the following types of loan programs:
Purchase/Acquisition Loans
Refinance/Cash-Out Loans
Renovation/Rehab Loans
Construction & Development Financing
Mini-Perm Loans
Interest-Only Loans
Bridge Financing
Short-term Loans
Private Equity & Hybrid Capital
---
What types of lenders and funding sources does Evergreen Capital work with?
---
Evergreen Capital has an unparalleled network of lenders and capital sources, including:
Commercial Mortgage Banks
Fannie Mae / Freddie Mac
FHA / HUD Lenders
Investment Banks
Life Insurance Companies
National & International Commercial Banks
Regional & Local Banks
Credit Unions
Short-term Lenders
Private Equity / Investment Groups
---
Are FHA/HUD Loans available from Evergreen Capital?
---
Yes. We work directly with the nation's largest FHA/HUD correspondents to secure the most attractive financing available for eligible properties. We also offer a Bridge-to-HUD program for borrowers who need to move quickly to secure financing while moving throught the HUD Loan application process. Evergreen Capital offers the following HUD Loan programs: - HUD 223(f) - Acquisition and Refinancing of Multifamily Properties - HUD 223(a)(7) - Refinancing of Properties with Existing HUD Insured Debt - HUD 221(d)(4) - Construction or Substantial Rehabilitation of Multifamily Properties - HUD 241(a) - Repairs, Additions, and Improvements to Multi-family Properties For borrowers interested in the HUD 223(f) loan, our most popular loan program, you can download the Term Sheet here or watch the video below for more information.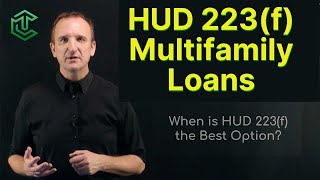 ---
---